Stone Age Climbing Gym Launches Expanded Online Services & Products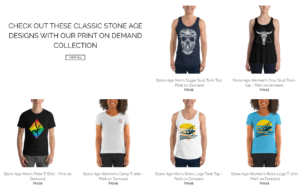 As COVID-19 (the coronavirus) continues to cause disruption to life as we know it, Stone Age Climbing Gym has moved online to keep people connected and uplifted. Since the gym is closed during the pandemic, the company has decided to offer major discounts on its inventory and products to help people enjoy the outdoors and look good while doing it.
Shop.climbstoneage.com has over 1,000 products available including apparel, climbing gear, outdoor supplies, and gift cards. 24-hour flash sales with merchandise up to 50% off take place every Tuesday and there are additional weekend sales are being held weekly while the gym is closed. People can sign up for sales notifications at climbstoneage.com or go to https://shop.climbstoneage.com/collections/outlet for the latest sale.
"This is an unprecedented time for everyone," explained Bryan Pletta, Stone Age Climbing Gym CEO. "By moving our entire retail inventory online it gives our employees meaningful work that they can do remotely and we created a new revenue stream to help keep our staff off of the unemployment rolls "
"Stone Age thrives on community, which is the foundation of our business.  To stay connected to our members who love being active, Stone Age has launched an ever-growing program of online classes available here. We are making these classes available for free to everyone in our larger New Mexico community who wants to exercise at home at their convenience. In addition to prerecorded classes, we are offering 15 live classes every week via Zoom.