Welcome to the most fun Team Building program!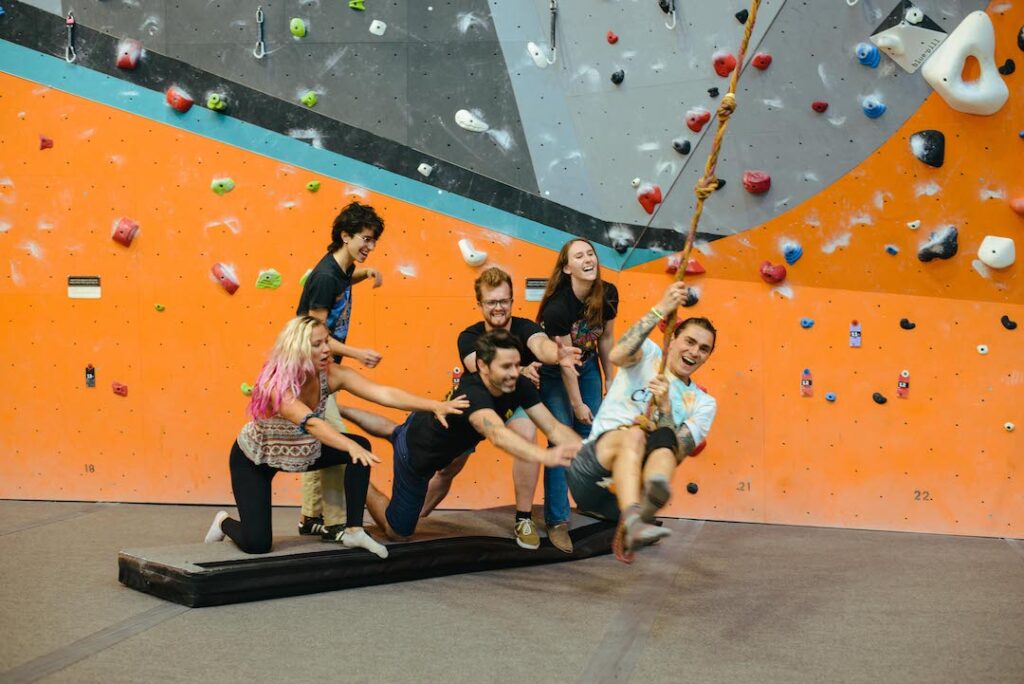 Imagine your business or organization having more creativity and effectiveness! Relieve the stress of your everyday work environment and strengthen bonds with your coworkers. Discover how your staff can work together to problem solve. Reward your employees, vendors, and accounts with a memorable day that they will rave about for years to come!
Team-Building is the process of improving the collective performance of any group of individuals. A group experience at Stone Age Climbing Gym will provide challenges that ignite excitement and can be a fundamental component in that process.
Fun and dynamic activities will garner huge rewards by establishing ownership of shared goals, breaking down barriers, and improving motivation. Adversity through mental and physical challenges helps to identify strengths and weaknesses, cultivates communication, and stimulates problem solving skills. Most importantly our unique experience and facility will create a bond of shared experience that you can build upon back at your workplace.
We would appreciate at least 14 days advance notice to register for team building.   We will try to accommodate other requests based on instructor availability.
Reservations are required to secure this special group pricing and a 50% deposit or company purchase order is required for your reservation.
"This was a great event, very well coordinated and very useful for our group—very satisfied." —Tyson R., General Mills
Our experienced facilitators will customize a program to meet your specific needs. If you desire an intense leadership session we can make it happen. Looking for a healthy, exciting alternative to a cocktail party or golf game? Want your team to just kick back, relax and blow off some steam? Stone Age is the solution!
Organizations that have benefited from Stone Age Team-Building and Corporate Outings include Intel, Sandia National Laboratories, General Mills, Bank of America, Wells Fargo, Cardinal Health, Bernalillo County Detention Center, University of New Mexico, and Boy Scouts of America.
"…the service is excellent. The experience was very fun, very safe and not nearly as intimidating as it may seem" —Matt W., The Alternative Board International
TEAM BUILDING RATES
Our climbing classes and custom designed team building activities are priced at the following rates. We can only accommodate groups up to 40 participants.
To book a Team Building event, please call (505) 341-2016 and ask for our Event Coordinator or send us an email.