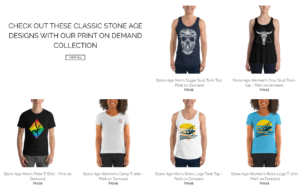 As COVID-19 (the coronavirus) continues to cause disruption to life as we know it, Stone Age Climbing Gym has moved online to keep people connected and uplifted. Since the gym is closed during the pandemic, the company has decided to offer major discounts on its inventory and products to help people enjoy the outdoors and look good while doing it.
Shop.climbstoneage.com has over 1,000 products available including apparel, climbing gear, outdoor supplies, and gift cards. 24-hour flash sales with merchandise up to 50% off take place every Tuesday and there are additional weekend sales are being held weekly while the gym is closed. People can sign up for sales notifications at climbstoneage.com or go to https://shop.climbstoneage.com/collections/outlet for the latest sale.
"This is an unprecedented time for everyone," explained Bryan Pletta, Stone Age Climbing Gym CEO. "By moving our entire retail inventory online it gives our employees meaningful work that they can do remotely and we created a new revenue stream to help keep our staff off of the unemployment rolls "
"Stone Age thrives on community, which is the foundation of our business.  To stay connected to our members who love being active, Stone Age has launched an ever-growing program of online classes available here. We are making these classes available for free to everyone in our larger New Mexico community who wants to exercise at home at their convenience. In addition to prerecorded classes, we are offering 15 live classes every week via Zoom.
As COVID-19 (the coronavirus) ramps up in the U.S., and we are forced to stay inside, it's more critical than ever to stay healthy and active. While many of us will be exposed to the virus, keeping our immune system functioning at peak performance will minimize the virus' impact and the duration. Here are some practical tips to stay healthy and fit during this time of turmoil:
Don't smoke
Eat a diet high in fruits and vegetables
Exercise
Maintain a healthy weight
If you drink alcohol, drink in moderation
Get adequate sleep
Take steps to avoid infection, such as washing your hands frequently and not touching your face
Get outside
Exercising can be a bit difficult since Stone Age Climbing Gym and most of the other gyms in town are closed. But consider the options that are available:
Hike, bike, walk or run
Do floor exercises at home
Youtube your favorite exercise routine and do it at home
If you're a gym member, see if the gym is offering Skype workout sessions
Try something you've never done before ; there are dozens of options online
And for your mental health consider:
Limit watching the news to 30 minutes a day;
Invite a co-worker to a virtual coffee break or lunch gathering;
Take a 20-minute walk outside daily, preferably in the sunshine.
Try some new things with family members – explore new games, cook a new recipe or binge watch a new series;
Touch in with a family member daily by phone or video chat;
Contact friends by phone or video chat.
Remember, the coronavirus is temporary, but taking care of your well-being is forever. Take the steps now to stay healthy and productive.